Invoice Finance Market Research Archive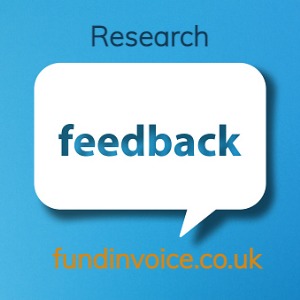 Before you take out invoice finance read this. FundInvoice LLP has produced this free, extensive UK archive of invoice finance research regarding factoring (with credit control) and invoice discounting. This is essential information for anyone considering using invoice or sales finance or thinking of changing invoice finance companies.
---
FundInvoice also offers an award-winning research-based, independent, invoice finance quotation search and advice service. CONTACT FUNDINVOICE
---
We want to share some of the findings and reports from our extensive invoice finance market research programme. Our findings are shared online, individually, via Glenn Blackman's Invoice Finance Blog which provides a searchable database of the various findings.
Market Research Surveys Relating To Invoice Finance
We have the findings from numerous surveys related to invoice finance and business funding generally. We have undertaken extensive amounts of research in order to understand these products and the differences between offerings.
Invoice Finance Pricing
We have summarised our invoice finance pricing related research and information into a single post that draws together multiple studies across various different products.
Other Aspects
Invoice Finance UK - how easy is it for UK companies to find these services when they search online? We take a detailed look at both the difficulty in finding the right provider or broker and the other search terms that indicate the issues that searchers are concerned about.


The Invoice Finance Companies recruiters plan to use.


Comparing trends in invoice finance versus business loans - this video looks at the differences in online search traffic for the different product types. It compares various forms of receivables financing with business loans.


Levels of awareness of different products (e.g. factoring, invoice discounting & construction finance) and providers.


What are the barriers and pitfalls to businesses taking up invoice finance?


What would clients like to see improved and offered?


How clients would like products to be structured.


How fast-growing companies and new startups fund their businesses.
Infographics
These infographics summarise some of our research findings (click on the images for large versions) or you can view all of our: Infographics: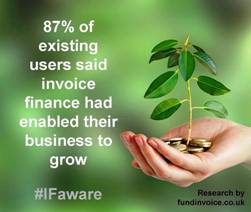 Adverts for the #IFaware campaign:
UK late payment, growth and recommendations for invoice finance:
New startups and high growth funding:
Market sizing and existing client research:
Infographics in PDF format:
Research Summaries
These are links to the various research summaries that pull together our findings:
Research Related Published Articles
Presentations & PowerPoint
Presentations relating to our Invoice Finance Market Research Programme.
Videos
You can see our research related videos on our FundInvoice YouTube channel.
Research Blog
Many of our research findings are shared via our blog. You can find all the research related blog posts here.
Using Our Research Findings
We encourage anyone to reuse our results in order to promote the industry. Use of our findings is free of charge and we only ask that you credit FundInvoice LLP for the research and provide a follow link back to this page.
Future Surveys
We are currently releasing the results from our survey of existing invoice finance users - there will be a further research summary in due course but the findings are published to the blog (see above) as they arise. If you have suggestions for future surveys we would be pleased to hear from you.
UK Invoice Finance Research Group

We also manage the UK Invoice Finance Group on LinkedIn. This group is open to anyone to join that shares its aims: The UK Invoice Finance Research Group is intended to enable the sharing of research relevant to invoice finance, factoring, invoice discounting awareness and related subjects to aid in the expansion of the UK invoice finance market. UK Invoice Finance Research Group
---
Important Notice - Disclaimer
All data and information provided in this document and the links to other sites are for informational purposes only. Neither Glenn Blackman nor FundInvoice LLP take any responsibility for this data or the content of any other sites, and make no representations as to the accuracy, completeness, currentness, suitability or validity of any information in this document or the sites it links to. Glenn Blackman and/or FundInvoice LLP will not be liable for any errors, omissions or delays in this information or any losses, injuries or damages arising from its display or use. All information is provided on an as-is basis.