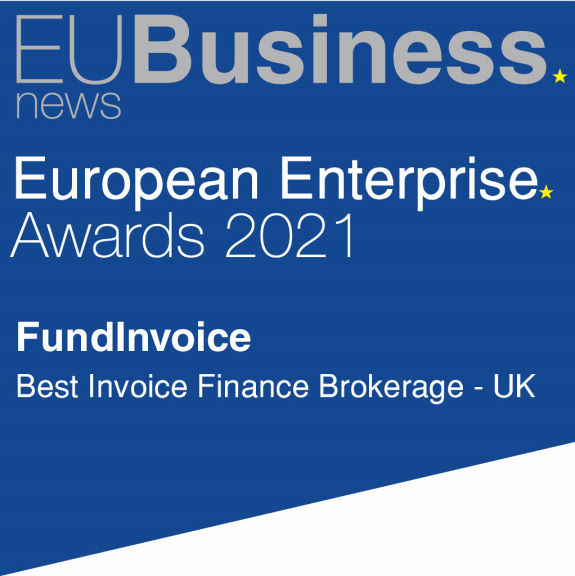 FundInvoice Win Award For Best Invoice Finance Brokerage UK
FundInvoice Are Confirmed Winners At The European Enterprise Awards
We are delighted to announce that we have won an award at the European Enterprise Awards 2021. FundInvoice LLP has been confirmed as the winner of the award for "Best Invoice Finance Brokerage - UK".
This comes shortly after being confirmed as a Finalist for the 8th consecutive year, for Invoice Finance Broker of the Year 2022 at the Business Moneyfacts Awards. The winner of that shortlist will be announced in a few months.
Amazing news to have been recognised in both sets of awards.
Best Invoice Finance Brokerage - UK - EEAs 2021
We are over the moon to have been confirmed as the winners of this particular award. It is always great to hear that someone found us worthy to be nominated in the first place. We then went through a judging process where supporting information and testimonials were provided.
You can read confirmation of the announcement here on the EEA site: FundInvoice - Best Invoice Finance Brokerage - UK.
Thanks For Your Continued Support
The team at FundInvoice would like to thank everyone who has provided testimonials on our behalf, we appreciate your continued support. The news of this award comes off the back of a year of growth for us. We have seen a significant increase in client numbers and have been pleased to help and support a lot of businesses as they recover from the effects of the pandemic. The award is exactly the type of springboard that we need to help us grow our business and help more customers who need cash flow funding.
Specialising In Receivables Finance
Whilst we offer the full range of business financing options to companies across the UK, we specialise in forms of receivables finance such as invoice finance, factoring and invoice discounting. This specialisation and expertise have enabled us to help businesses that have struggled to find the funding they need. We hope to help an ever-increasing number of UK companies find the money they need to support their expansion, growth and turnaround plans.
Thanks again for all your support!
Glenn & Sean
Posted: 4th of February 2022