Selective Invoice Finance And Invoice Auctions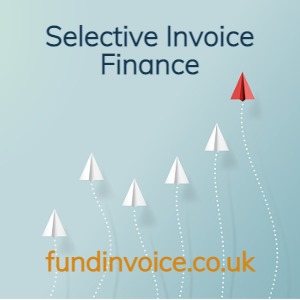 Welcome to our selective invoice finance support service, which will guide you through the process of finding a selective invoice finance company and checking the price for your business. Also, see typical selective pricing that will vary based on your circumstances and who provides the facility.
---
Find Out The Price For You
REQUEST A CALL TO DISCUSS SELECTIVE INVOICE FINANCE Call 03330 113622 or use the simple quote request form to the right of this page (below if you are using a mobile/tablet).
---
This form of alternative finance, often offered by FinTech companies (finance technology companies) is growing rapidly at present, and we are adding providers to our panel on a regular basis - hence there is a wide choice. In many cases, without the need to give personal guarantees or have any minimums or any obligation to use the service. The service has only recently become available and is often favoured for its flexible approach, allowing customers to pick and choose when they use the service.
You don't have to auction your invoices, some funders provide their own funds against the invoices that you select, or you can choose peer-to-peer finance (P2P funding provided by one or more businesses like yours). There are many funding options. In fact, the market has moved away from auctions towards pricing fixed according to pricing policy.
Many customers prefer to know that a single funder is financing their business, but some say they would prefer the pricing advantages of an auction-style bidding approach. The reality is that in some cases it can be cheaper to finance all your invoices, rather than just a few.
This form of invoice finance has benefits over gaining investment from investors, as you do not have to give up any ownership of your business.
Minimum Transaction Size
You can finance individual invoices (or batches of invoices) as small as £2,000 (or even lower - in some cases) on a one-off basis, without any obligation to continue. You will have no contractual obligation to use the service again. There is NO requirement to have more than one client for this type of invoice financing.
You can receive bad debt protection if you wish so that you get paid even if your customer fails.
How Selective Invoice Finance Works
Put simply, you select the sales invoices that you want to receive funding against, rather than receiving funding against all or your sales ledger (known as whole-turnover).
There are many different providers, each with its own method of operation, but in outline terms, it works as follows:
You raise your credit invoice, to your customer, as usual. This process can also work for a batch of invoices that you select.
You submit the invoice(s) to the invoice finance company for funding. This may be by email or via an upload facility that they provide.
The funder will normally undertake some form of due diligence/verification of the invoices.
The invoice finance company provides you with a part payment against that invoice (at an agreed percentage) immediately. You can use that cash for any purpose.
Either you chase the invoice(s) for payment (if necessary) yourself or they can do this for you if you prefer - some funders offer this service free of charge.
When the invoice is paid, the funder will pass the balance of the invoice to you (less their charge for the service).
Here you will find the single invoice finance options explained, in detail.
Where Do The Funds Come From
Different funders access their funding in different ways. In some cases they use their own funds (or a line of credit with a major organisation such as a bank), others have investors, and some use a peer-to-peer ("P2P") approach. This is where you borrow funds invested by other businesses like yours. In the past, there were invoice auction options available, where potential investors bid to fund your business, but these have largely been replaced by pricing according to the provider's pricing policy.
How Much Does Selective Invoice Finance Cost?
The cost will depend upon the nature of your business, your circumstances, the amount you want to raise and for how long you need the money.
This is an actual: example of the cost of selective invoice finance.
The fee structure may vary between providers, some will charge you a signup fee but others don't and we may be able to ask for this to be waived for you.
How Invoice Auctions Worked
Invoice auctions worked in a very similar way to that explained above. The key difference was that the funding was not provided by the invoice finance company. Rather it is provided by investors that would bid on your invoice, or batch of invoices, to win the opportunity to fund them. Similar to an auction. This approach has largely disappeared in recent years, as funders have moved towards whole ledger funding models. However, selective funding options still exist.
Market Research
We have undertaken some research into selective invoice finance and invoice auctions:
Get A Quote
If you would like a quote for selective invoice finance, please REQUEST A CALLBACK and we will be able to help you find one (or more if you choose) quotations for your business. There is no obligation for you to go any further and our service is completely independent.
Further Resources
These are further resources relating to selective invoice financing and invoice auction and trading sites that might help: