Help Changing Invoice Finance Companies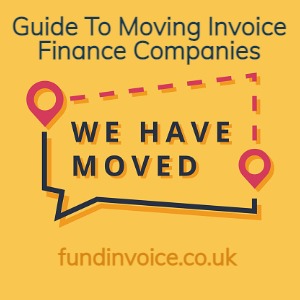 Some of the customers that we help are looking at changing invoice finance, factoring or invoice discounting companies. We can help you find the best option for your business, and provide a "hand-holding" service, through the process of moving provider.
Read our free guide - How To Change Invoice Finance Companies.
Problems With Your Present Funder?
Prices, service levels and funding flexibility vary between providers and there are always special offers and discounts available, even if you are not having problems with your funder.
However, there are some cases where issues arise between the invoice finance company and their client and once again you will find options out in the marketplace that you might not know existed. If you are having any of the following problems with your invoice finance company, we are likely to be able to find you an alternative lender that will take a more flexible approach:
Pricing - if you feel it's too expensive, check your price against the market.
Funding restrictions - including prime debtor restrictions, restrictive credit limits or facility limits - other lenders may take a different view.
Poor service - if you have factoring and the credit-control is not up to scratch, there are many alternative companies that will provide a top-quality credit control service.
Fallen out with your provider - sometimes clients don't get on with particular members of staff. Many funders are eager to acquire new clients and will roll out the red carpet for you.
Failure - in a minority of cases a funder may fail and customers may need to seek alternatives.
Other issues - whatever you are unhappy with, we are likely to be able to find alternatives that will solve your problems, even if your current provider has asked you to find an alternative lender (often called being managed away).
Don't Worry About Moving Invoice Finance Companies
Our clients are often worried about the difficulties that they expect to encounter when changing between different providers such as paying termination fees, notifying existing customers and the hassle that they anticipate.
Fortunately, there have been some significant changes recently that have made the process of switching providers extremely simple.
Help Paying Termination Fees
We deal with a number of providers that will help our clients pay termination fees levied by existing providers either in part or even in full. Equally, the cost savings that we can often find for a client will more than offset any termination fee over time.
"Hand Holding" Transfer Service
We have access to providers that will provide a "hand-holding" service to take new clients smoothly through the transfer process between different providers. Similarly, our expert advisers will also help and guide you through this process. This can take much of the hassle out of the process for you.
Standard Transfer Procedures
Lastly, the professional body to which most of the factoring and discounting companies belong, UK Finance has standard procedures that their members must follow to simplify the transfer process between members.
Overall these measures mean that many of the fears that clients have can be overcome and the transfer process can be significantly simpler than one might expect.
For more information or help with transferring providers please contact us
Complete an: ONLINE QUOTATION SEARCH REQUEST
Further Resources
Article - What Stops Invoice Finance Users Moving Providers?