Body Shop Factoring For Car Crash Repairs Billed To Insurance Companies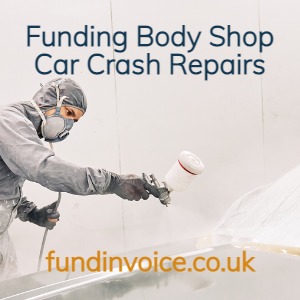 Body shops, that undertake car crash repairs, can be eligible for a niche source of funding - that will release up to 100% of invoice values (minus charges). No waiting around to get paid.
CALL 03330 113622 FOR A QUOTE
Bodyshop Invoice Finance
In the event of a car crash, the repairs are normally authorised and paid for by the insurer (and in some cases a Loss Adjuster) of the party that is responsible for the crash. Despite car insurance companies being of generally good financial standing, they can take a long time to pay the invoice for the repairs. Whether it is the guilty or the innocent parties repairs that are being handled it is possible to get funding against the invoice for the repairs.
Bodyshop invoice finance works by releasing cash within 48 hours of raising the invoice. This will dramatically improve the cash flow of the garage, repairer or spray shop.
In some cases, finance can be offered with no debenture and no personal guarantees from directors.
You can access funding against all your invoices for vehicle body repairs or you can select those that you want to be funded, giving you complete control of the funding level and the costs.
How Bodyshop Factoring Works
Bodyshop factoring works in the following way:
Invoices are raised and sent to the insurance company.


The factoring company pays up to 100% of the value of the invoice to the bodyshop (less their charges).


The factoring company handles any chasing of the insurer that is necessary.


The facility can be operated on the basis that once you have been paid by the factoring company collecting the invoice is the factoring companies problem, not yours (non-recourse).
GET A QUOTE FOR BODYSHOP FACTORING
Crash Repairs Factoring Further Resources