Invoice Discounting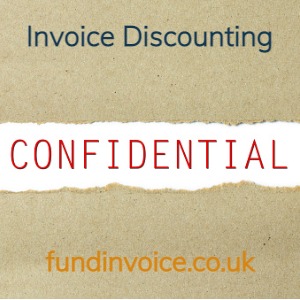 Invoice Discounting (also called ID) is a form of receivables finance - where you get funding against your invoices.
The definition of invoice discounting is a business finance facility whereby prepayments are provided against your outstanding sales invoices (that have been raised on credit terms). These are provided by an invoice discounter, whilst the supplier receiving the prepayments retains responsibility for the credit control.
GET AN INVOICE DISCOUNTING QUOTE
Prepayments Without Administration
These prepayments can be up to 100% of the value of your sales invoices (minus charges), which can significantly improve the cash flow of your company. You will no longer have to wait for customers to pay, before being able to access and use that cash that is tied up in your unpaid sales ledger.
Some types of facilities allow you to upload your entire sales ledger, in the background in some cases, without the requirement for you to undertake any type of reconciliation. The amount of administration that you need to undertake, can therefore be minimal.
Invoice Discounting
With ID, you continue to maintain control of your sales ledger and undertake all the customer credit control yourself, this allows you to closely control the contact with your customers in order to maintain relationships.
There are a number of different types of invoice discounting, however, the main variations are as follows:
Confidential - there is no assignment clause on your invoices and no notice of assignment letter is sent out. You undertake all the credit control yourself, so your customers remain unaware that you are using the service.


Disclosed - you retain the credit control activity in-house, but your customers are aware that a funder is involved. This gives the funder more comfort to finance customers that are not so financially strong.


Selective - rather than getting prepayments against all your invoices, you pick and choose invoices to submit for funding.


Export - funding against invoices to customers based abroad, which may be in addition to funding against invoices to UK debtors.


Protected - any form of invoice discounting with the addition of bad debt protection.
You can use our guide to which product to use, in order to understand the service that would best suit you.
Factoring Differences
With a factoring service, you also receive a credit control service from the factoring company. This is the key difference between factoring and invoice discounting.
Invoice Discounting Pricing
The price of invoice discounting depends upon the type of facility that you choose. Please see this guidance regarding Invoice Discounting Pricing.