Back Issues of FundingVoice Magazine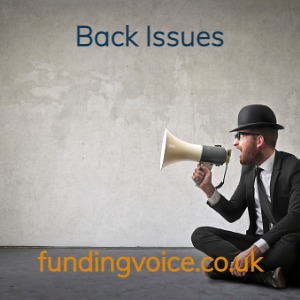 FundingVoice magazine gives you the latest business finance offers and discounts as they become available. It also includes articles, tips and support to improve business cash flow and funding, from experts.
Below is a list of the back issues of Funding Voice Magazine for you to read.
(Please note that statistics & cost savings quoted may have been updated in more recent studies, we don't go back and update all previous articles).
Apologies that this list tends to lag behind, if you want the latest the best option is to subscribe.
2023 Editions
2022 Editions
December 2022 - Merry Christmas From FundInvoice - our Christmas edition summarises our news over the last year and brings help with raising working capital and preparing for a recession.


June 2022 - Stock Finance Now Available - in addition to a new stock funding facility, there are details of business loan refinancing arrangements that can help you reduce your outgoings and support if you have to repair your supply chain.


March 2022 - FundInvoice Win Best Invoice Finance Brokerage Award - details of the award we won, pre-pack funding and an update from Optimum Finance.
2021 Editions
2020 Editions
2019 Editions
2018 Editions
2017 Editions
2016 Editions
2015 Editions
2014 Editions