What is Bad Debt Protection And Non Recourse?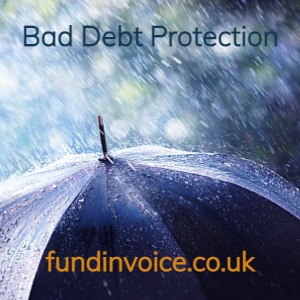 Bad Debt Protection (BDP), also known as Non Recourse, provides your business with Protection Against Non Payment by customers due to insolvency or protracted default (terms vary between providers).
It is an alternative to taking out a credit insurance policy, which can be more costly.
BDP can be added to an invoice finance facility.
---
REQUEST A FREE QUOTE SEARCH or call Sean on 03330 113622, in confidence.
---
How Does Bad Debt Protection Work?
Bad Debt Protection, works as follows:
As part of an invoice finance facility, bad debt protection is an option.
The invoice finance company credit checks your customers and assigns credit limits for each one.
Some providers will allow you to select debtors for bad debt protection so that you can reduce costs.
Providing you trade within those credit limits your invoices are covered.
The covered percentage can vary between providers, but it is up to 100% of the value.
If a covered invoice isn't paid the invoice finance company pays you the balance.
There may be a "first loss clause" which is like the excess on car insurance.
What Does Bad Debt Protection / Non Recourse Cost?
The cost of the bad debt protection / non-recourse option starts from c. 0.35% of turnover. The cost for your business will depend upon the type of facility that you want and the nature of your business. We can find quotations for you without obligation - we provide independent advice:
---
Further Infomation
Here is some further information that may be helpful: