What is Export Finance & Export Factoring?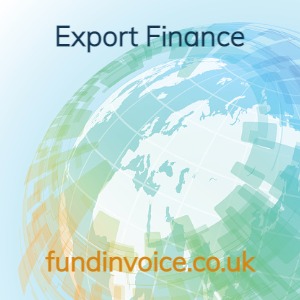 Export Finance and Export Factoring can provide your business with a combination of the following:
Funding - against your outstanding export sales invoices and new invoices as you raise them.
Credit Control Support - help collecting in outstanding invoices that can save you money.
Language & Local Customs Expertise - to help collect invoices from foreign customers.
Bad Debt Protection - to protect you against overseas customers not paying.
REQUEST A FREE INVOICE FINANCE QUOTE SEARCH
How Does Export Finance Work?
Export Finance, does not have to include all your overseas sales. Some providers will allow you to select territories, debtors or single invoices to fund. In general terms though, the process works for as follows:
The finance company can credit check your overseas customers for you.
They can provide bad debt protection if you wish to protect against non payment.
The finance company can provide you with a prepayment against your invoices.
The finance company can provide credit control support to collect export invoices.
They have language skills and knowledge of local customs to help with this.
In some cases they use worldwide networks of local correspondents to assist.
List of countries and territories we can help you find export finance and factoring for.
What Does Export Finance Cost?
The cost of export finance depends upon the type of facility that you want and the nature of your business, we would be happy to explain how the costs work. We can find quotations for you without charge and without obligation and we provide free, independent advice.