Lists Of Business Finance Companies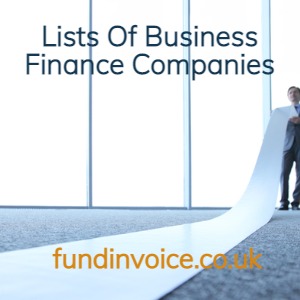 We have various lists of business finance companies on our website. This page summarises them in one place.
The Lists Of Funders
Many of the finance companies will have direct response links in the list, which can be used to contact them or to request a business finance quote from them (we can do this for you - see below):
By Product
International Providers
Worldwide List Of FCI Members - the International Factors Group was integrated into Factors Chain International in 2016. This is a link to a list of international members worldwide.


Research Related
Further Help
You don't have to do the searching around yourself. If you want a free, independent quote search conducted please REQUEST A CALLBACK or call Sean on 03330 113622.