First "Golden Hello" Quote Is For £4,000 To Be Paid In Advance
Under our exclusive "Golden Hello" invoice finance offer, the first customer has just been quoted a saving of £4,000 per annum, that they are eligible to receive as an up front payment when they switch providers.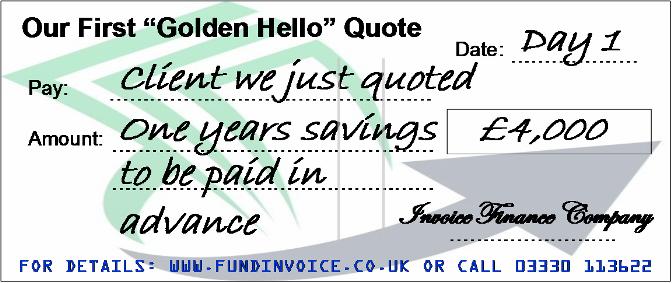 So to be clear, if the client moves from their existing invoice finance company to the one making this offer, they will save approximately £4,000 per annum on their invoice finance costs. The first years saving will be paid to them, up front, when they commence with their new provider. For the first year their costs will stay as they are and then after the first year, their costs will be reduced to the new level so that they continue to save.
The offer is for invoice finance users that switch to the provider that is currently making this offer and it is only available through FundInvoice. The maximum payment available is £10,000 - see here for full details of the offer: "Golden Hello For Existing Invoice Finance Users".
For details call Sean on: 03330 113622 or REQUEST A CALL BACK
Posted: 9th of September 2015