Construction Finance Quote For Funding Against Applications For Payment Or Invoices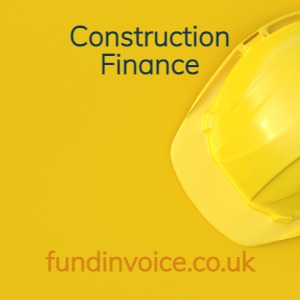 Construction Finance (sometimes called receivables finance or construction invoice finance) is specialist finance for subcontractors within the construction sector. It can be used for any purpose, including paying for site workers, paying overdue tax, or purchasing raw materials.
It can help improve your cash flow if you have just won a new contract, especially a large order, or if you want to take on larger projects even with contractual terms, such as JCT contracts.
---
REQUEST A CONSTRUCTION FINANCE QUOTE

Or call Sean for help on 03330 113622.
---
Construction finance provides you with:
Finance against uncertified or certified applications for payment, outstanding sales invoices or vesting certificates for materials.


Credit Control Support - (if you want it) to collect payments from customers. This can be "confidential" i.e. carried out in the name of your business so that your customers are unaware that you are using it.


Selective or Whole Turnover Options - you can finance transactions you select, or finance all your turnover to maximise the amount of funding.


Confidentiality - (in many cases) so that your customers are unaware that you are using the service.
How Does Construction Finance Work?
This specialist form of finance is only offered by certain companies that specialise in helping this sector. It works as follows:
The finance company provides you with a prepayment, on the day you submit them (in some cases).


This can be against uncertified applications for payment when they are raised, staged invoices or sales invoices.


A 70% prepayment against a £100K sales ledger could release up to £70K of funding.


This immediate cash injection can be used for any purpose including paying for workers or materials.


When customers pay, the balance (minus charges) is passed to you.


As you raise new applications for payment or invoices, more cash prepayments are made to you.


In this way the funding grows as your sales ledger grows.
Options
You don't have to finance all your transactions. You can just select some individual transactions to finance without any obligation to finance more.


Funding of up to 25% of the total contract value can be made against signed off vesting certificates in respect of materials held on-site or off-site (for future project phases).


The finance company can provide credit control support, if required, in the name of your business.


You can also have optional bad debt protection against customers becoming insolvent.
Barriers To Funding That Are Overcome
The financiers are able to fund even where there are:
Complex contracts or contractual debts including JCT contracts, DOM, NEC3 or bespoke contracts.


Project-based transactions even with deposits paid and staged payments (interim payments during the project).


Retentions - payments that are held back following completion of a project until some future sign off is completed.


Extended payment terms.


Liquidated damages, performance clauses or termination clauses.


Variations of up to 10% of the contract value.
How Does Funding Against Uncertified Applications For Payment Work
The prepayments level is set by the funder, typically up to 70% (but can be as high as 100% less the funder's fee), and is made against the net value of the applications for payment i.e. excluding:
Deductions (if appropriate)


Self-bill VAT


Retentions


Main contractor's discount (or other discounts)


CIS (Construction Industry Scheme) tax
This type of funding can still release substantial amounts of cash for any purpose, including paying workers and for materials.
The Benefits
You can:
Receive funding, on the day you raise and submit uncertified applications for payment (or invoices).


Settle your wages bills, labour costs or pay your suppliers for raw materials before you get paid by the main contractor or your customer.


Enjoy full confidentiality (if required - subject to criteria) so your customers don't know you are receiving funding.


Improve your cash flow that enabling you to negotiate better terms for the supply of raw materials.


Avoid raising capital in ways that will dilute your ownership of your businesses. You retain full ownership.


Avoid having to give your house as security to a bank for a loan.


Take on bigger jobs without worrying about when you will get paid so you can enter the tendering process with confidence.


Leverage the expertise of specialist funders with experience of your sector and access quantity surveyors (QS) / recovery specialists that can help ensure you get paid.


Enjoy electronic access to your account.


Optional bad debt protections against your customer failing to pay, provided by specialists within the sector.
Who Is Eligible?
There are a number of different sectors and trading methods that may qualify for this kind of finance. The following situations are suited to this type of finance:
If you have a CIS UTR number (not necessary though).


If you raise applications for payment, even if they are uncertified.


If you raise invoices for stage payments for incomplete contracts.


If you are a subcontractor or the main contractor (in some cases).


If you need finance against JCT contracts, DOM1, NEC3 or bespoke contracts.
Trade Sectors
The following sectors may be eligible for funding (see the full list of SIC code sectors that are suitable):
Main contractors & subcontractors


Partitions & plastering


Diamond drilling


Dry lining


Demolition


Fast track shopfitting


Industrial doors


Supply and installation of bathrooms, kitchens & double glazing


Plumbing & heating


Traffic management


Joinery pitched roofing & flooring


Property refurbishment, scaffolding, painting & ceilings


Property maintenance


Landscaping & earthworks


Interiors, decorating & tiling


Fabrication of steelworks


Electrical contracting


Pre-cast concrete
What Does It Cost?
Article explaining how charges and funding levels are calculated.
An example of a construction finance quote we found for a company recently.
If you think that finance against uncertified applications for payment, or unpaid invoices, could help your business please CONTACT US for a no-obligation construction finance quote search and for support from an independent expert.
For more detail about these services please see our free: Guide To Construction Finance.
---
Further Resources
Case Studies
Case studies of businesses we have helped in the sector:
Articles
Other Help