Confidential Factoring
What is Confidential Factoring?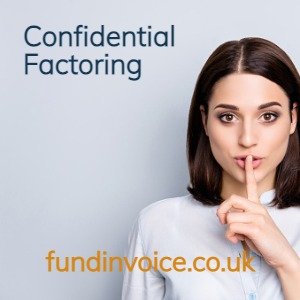 Confidential factoring provides you with finance against your unpaid sales invoices and the factoring company will help you chase outstanding invoices - but in the name of your business, so your customers don't know you are using the service.
Within invoice finance, Confidential Factoring is rarely offered by factors. If you would like to benefit from cash released from your unpaid invoices and to receive help with your credit control but don't want your customers to know that you are outsourcing the function, Confidential Factoring could be the perfect solution for you.
How Does It Work?
Confidential Factoring works as follows:
You receive up to 85% of the value of your customer's unpaid invoices as they are raised.
A dedicated telephone line is used for all incoming communication from your customers.
That phone line is answered in the name of your business preserving your confidentiality.
All correspondence with your customers reflects your corporate branding e.g. collections letters, statements etc.
The factor provides you with credit control support but with Confidential Factoring, your customers are unaware that you are using the service.
How Much Cash Could You Raise?
To find out how much cash you could raise through Confidential Factoring use our free online cash calculator.
What Will It Cost?
We can search the market for you and find you quotations for Confidential Factoring based on your circumstances. Just use the quote form to the right of this page, or call us and speak to an expert in confidence on 03330 113622.
What Next?
To find out more about this service, which is only available from a handful of providers, contact our expert advisers:

Complete an: ONLINE QUOTATION SEARCH REQUEST
Further Resources
Article: "White Label" Confidential Factoring
Case study: Small Business Confidential Factoring