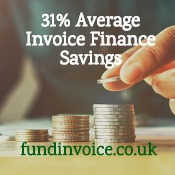 Over the last year, we are pleased to have been able to find average cost savings of 31% for clients.
These are projected savings found on the combined cost of service charge and discount charge (or the single fee where applicable), compared with invoice finance quotes sourced elsewhere.
Read about it here: average invoice finance cost savings.
---
AVERAGE SAVINGS UPDATED POST PUBLICATION: AVERAGE COST SAVINGS

Posted: 14th of October 2019