Asset Finance - Leasing - Hire Purchase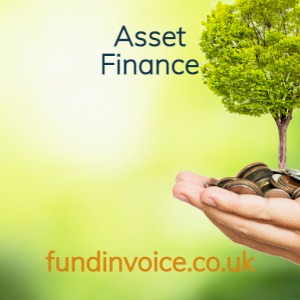 Asset finance such as leasing and hire purchase can help your business purchase equipment, plant and machinery by spreading the payments for the asset over long periods of time, making them much more affordable for your business. We work with an asset finance specialist that can find you quotations for leasing or hire purchases.
Finding Asset Finance
If you need asset finance, lease finance or hire purchase, in order to buy items for your business, please complete our:
ASSET FINANCE QUOTATION REQUEST
. . . and we will arrange for our asset finance specialist partner to call you back to discuss your requirements.
Assets You Can Purchase Using Lease Finance and Hire Purchase
Asset Finance can help you buy or refinance a wide variety of items such as:
Plant
Machinery
Equipment e.g. IT or telecoms, phone systems etc.
Construction equipment e.g. diggers, shovellers, cranes etc.
Printing equipment e.g. a printing press or digital printing equipment
Injection moulding equipment
Agricultural equipment
Computers and PC equipment, servers etc.
Cars and commercial vehicles
Intangibles such as contract income, subscriptions or licences
To speak to our asset finance specialist partner please complete our ASSET FINANCE QUOTATION REQUEST
Further Resources
Article - How To Sell More High-Value Equipment