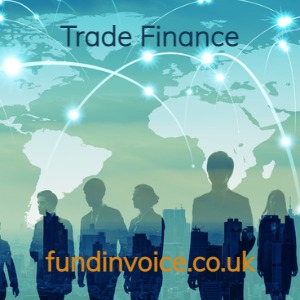 What Is Trade Finance & Import Finance?
Trade Finance (also known as Import Finance or Purchase Order Finance) can provide your business with:
- Finance - to fund imports from abroad or for UK transactions.
You can either repay the funding after an agreed period, or use:
- Invoice Finance - to repay the cost of import finance, and to help collect your invoices (if you prefer).
FundInvoice LLP deals with a number of well known trade finance companies and we offer an independent quotation search service that you can use free of charge:
How Does Trade Finance Work?
It can work in a variety of ways but the key aspect is that we can help you, as the importer, raise money to pay your supplier(s) in respect of goods that you are importing from abroad. Some providers will also offer trade facilities in respect of transactions that are based entirely within the UK.
We can also help with cross-border transactions, where the goods move from one foreign territory to another. This type of import financing facility enables you to pay your supplier on time whilst receiving extended credit terms.
In some cases, the financier can help with all aspects of the cycle, including shipping and production inspections, in addition to customer payments.
We have access to specialist trade financing companies that are experienced in all aspects of international import financing such as letters of credit, bills of exchange and other importation documentation. We can introduce you to one or more providers that meet your requirements.
Pre-shipment finance is also available, to make payments to overseas suppliers in advance of manufacturing and shipping.
The Cost of Trade Finance
The cost of trade finance depends very much upon your requirements and circumstances and the type of facility that you need. In some cases a flat fee structure can be offered.
This is an example of a trade finance price that we found for a client.
We can find quotations for you so please contact us for a confidential, no obligation consultation with an experienced adviser:
REQUEST MY TRADE FINANCE QUOTATION SEARCH or call Sean on 03330 113622.
Further Resources