List of Invoice Finance Companies In The UK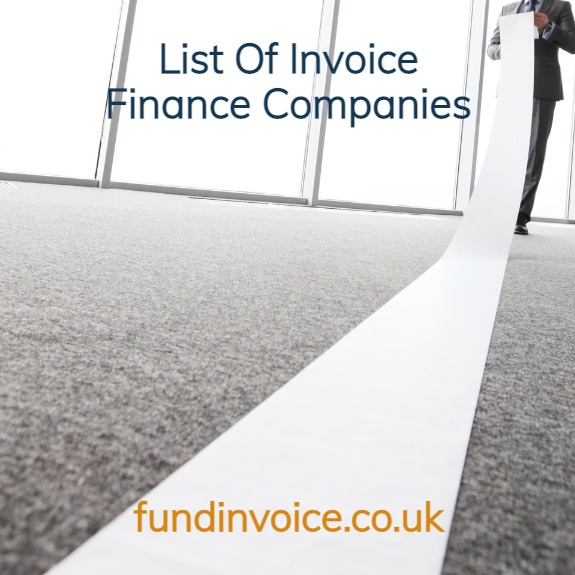 The list of invoice finance companies in the UK has grown in recent years with the addition of products such as asset based lending (ABL), selective invoice discounting, spot factoring and the emergence of online receivables finance auction sites, and peer-to-peer lending.
More Choice
This has increased the choice for our clients, which is great news. However, the increased choice has also created more difficulty choosing a provider, because of the large number of choices. Fortunately, we have undertaken extensive research in order to understand which providers offer the best rates and the best service levels.
Below is a list of the UK's invoice finance companies.
If you were looking for a list of factoring companies or a list of invoice discounting companies we can identify those for you, from the full list below.
Finding A Suitable Invoice Finance Company
The list of invoice finance companies (and list of factors) below demonstrates the large number of choices available to client, but you may want help to narrow the choice. FundInvoice LLP are the UK's 1st research led independent, invoice finance advice and search service for invoice finance, factoring & invoice discounting that have access to the UK market.
Our invoice finance experts have extensive experience of the market and they will be able to put you in touch with the invoice finance companies that are most suitable for your business based on exactly what you are looking for. We offer an independent quotation search for invoice finance quotations and you will have no obligation to proceed.
Please note that the presence of a business on our list below, does not constitute any endorsement by FundInvoice LLP.
---
We can put you in touch with any of the invoice financiers on this list: CONTACT US or we can conduct an invoice finance quotation search for you: REQUEST YOUR FREE INVOICE FINANCE QUOTE SEARCH or call Sean on 03330 113622
---
List of Invoice Finance Companies in the UK
Below is a list of some of the large number of invoice finance companies in the UK - some have links to further information or contact forms for you to get in touch with them directly. Currently, by our count, there are 99 distinct organisations on our list:
ABN AMRO Commercial Finance
Accelerated Payments
Advantedge Commercial Finance (formerly known as Factor21 PLC) - Henry Howard Cashflow Finance (formerly HH Cashflow Finance) was acquired by Advantedge on 17/07/18
AIB Commercial Finance
AIB Group (UK) PLC
Aldermore Invoice Finance
Arbuthnot Commercial Asset Based Lending - launched 26/02/18
Ashley Commercial Finance (Ashley Finance is now part of Ultimate Finance)
Bank of Ireland Commercial Finance, Belfast
Bank of Ireland Finance, Dublin
Bank of London and The Middle East
BNP Paribas Commercial Finance Ltd
Brightstar
Burdale Financial
Calverton Finance
Capitalflow Commercial Finance (Ireland)
Cash Direct UK
Cash Friday (now part of Lloyds)
Celtic Invoice Discounting (Ireland)
Centric Commercial Finance (purchased by Shawbrook June 2014)
Charterhouse Commercial Finance PLC
Cirrus 4Syte Ltd
Clear Funding Ltd (also Clear Funding Financial Services Ltd)
Clydesdale Bank plc / Yorkshire Bank
Coface
Creative Capital
Danske Bank
Diamond Bank (UK) PLC
DueCourse
Easy Invoice Finance Ltd
Fair Finance Ltd
FI Capital
First Trust Bank
Five Arrows Business Finance PLC (formerly State Securities)
Fortis Commercial Finance
Frenns
GE Capital Bank Ltd
Gener8 Finance Ltd - acquired by 1pm PLC
Growth Street Exchange Limited
Handelsbanken
HSBC Invoice Finance (UK) Ltd
Investec Capital Solutions (prior to 25/01/18 known as Amicus Commercial Finance)
InvoCap (formerly called Invoice Cycle)
Invoice Liquidity
Invoicefair (Invoice Fair Limited)
Jardine Norton
JMK Group
Just Cash Flow PLC
Key Factors Ltd
Lloyds Bank Commercial Finance (formerly Alex Lawrie Factors)
M Z Factoring
Metro Bank SME Finance (formerly SME Invoice Finance)
Optimum SME Finance Limited
Oriel Collections Ltd
Panel Financial
Paragon Bank Business Finance PLC (formerly Five Arrows Business Finance PLC and State Securities PLC before that)
Paysap Ltd
Peak Cashflow
PeerPay - FloFunder service.
Platform Black now called Sancus Finance Ltd
PNC Business Credit
Positive Cashflow Finance Ltd - acquired by 1pm PLC
Praetura Commercial Finance Ltd
RBS Invoice Finance
Redd Factors
Sancus Finance Ltd (formerly known as Platform Black - due to shut down).
Santander Invoice Finance
Satago
Scottish Pacific Business Finance (due to exit the UK market).
Secure Trust Bank Commercial Finance (part of Arbuthnot Banking Group)
Select Invoice Finance
Shawbrook Bank Ltd (formerly Shawbrook Business Finance & Shawbrook Business Credit)
Siemens Financial Services
Silverburn Finance (UK) Ltd
SME Invoice Finance (rebranded as Metro Bank SME Finance)
Sonovate Limited (recruitment back office)
Tandem Invoice Finance
Tungsten Corporation PLC (for suppliers using their e-invoicing solution)
Ulster Bank Invoice Finance
Ulster Bank Invoice Finance (NI)
Wells Fargo Capital Finance
Wyelands Bank
Zodeq
Lists Of International Factoring Companies Worldwide
If you are looking for global lists of factoring companies worldwide you can find help here: http://www.fundinvoice.co.uk/list_other/list_international_factoring_companies_worldwide.html
List Of Factoring Companies In The UK
We have evolved our list over the last decade and a half, however we are contacted by approximately one new provider every other week at present. Therefore, there may be additional providers that you think we should add. If you have any other providers that you think should be added to the list please contact FundInvoice, we are always happy to add to our list of factoring companies.
---
Notes
* former names include: Ultimate Finance Group PLC, Ultimate Invoice Finance and Ultimate Trade Finance