Exclusive "Golden Hello" Cost Saving Offer For Invoice Finance Users
Up to £10,000 of annual invoice finance cost savings, paid to you, in advance, when you change to a particular one of our funding partners.
REQUEST DETAILS or call Sean on: 03330 113622.
This is an exclusive offer, for a limited period of time, that we have negotiated with one of our invoice finance partners. It's better than "cash back" its a "golden hello".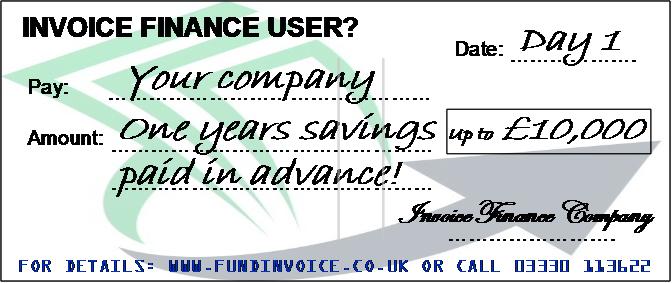 What We Have To Say About This Offer
Sean Morrow, a Partner in FundInvoice said the following about this offer:
"I believe the new "Golden Hello" offer is a truly ground breaking offer for companies looking to save money by moving their Invoice Finance facility. No more having to wait a whole year to see if the sales persons promises of savings will materialise. Now we have an Invoice Finance company literally putting their money where their mouth is by giving a client the savings up front and in one lump sum! Think of the uses a company would have if they were given a £10,000 cheque, with no additional changes elsewhere to running costs!".
Quotes We Have Made
Our first quote has just been made to an invoice finance user for a saving of £4,000 which is eligible to be paid in advance - see the news release.
How This Offer Works
The offer works as follows:
It is available exclusively through FundInvoice LLP, until further notice (but may be withdrawn at any time), to existing invoice finance users that switch to a particular one of our funding partners. The funding partner making this offer is backed by a trusted, well known organisation.


Our funding partner will seek to offer you either invoice discounting, confidential factoring or factoring, at a service/administration charge, and discount charge, that will reduce your current invoice finance costs. Savings may not be possible in all cases, and the level of savings may vary according to your circumstances. Any annual saving will be calculated by them and paid to your company, by them, on commencement of your new facility.


Maximum cost saving, paid to your company, on commencement of your new invoice finance facility, by cheque or electronic transfer, will be £10,000.


For the first 12 months you will continue to pay the service/administration charge and discount charge that you currently pay your existing invoice finance provider (with the first year's annual saving having been paid to your company in advance as detailed above), in month 13 your charges (service/administration charge and discount charge) will reduce to the lower reduced level.


Offer available to companies based in England and Wales (i.e. excludes Scotland and Ireland).


The offer is subject to status, as determined at the absolute discretion of our funding partner.


12 months minumum contract period, with 3 months notice of termination required after the minimum period.


Full terms and conditions will be provided by our funding partner on application.