FundInvoice Reviews And Customer Ratings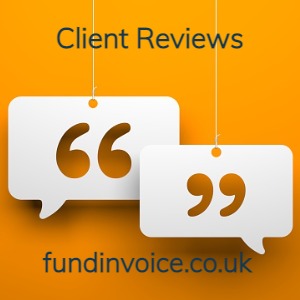 FundInvoice offers an award-winning research-based, independent advice and search service for business finance such as invoice finance, factoring, invoice discounting, trade finance and business loans.

We encourage our customers to review the service that they receive from us and we post those ratings and reviews here without alteration or omission. With 5 stars being the highest rating that can be ascribed.
If you are one of our customers, to add a rating and/or a review please email: [email protected]
It will be posted unaltered (only client names and finance company names are not shown) to preserve confidentiality.
Our Overall Customer Satisfaction Review Rating
We are delighted to confirm that overall, our customers have given us an average rating of:

4.9 out of 5 (40 ratings given).
Customer Satisfaction FundInvoice Reviews
RATING
OUT OF 5
COMMENT
CUSTOMER
Average
4.9/5.0

OVERALL AVERAGE CUSTOMER RATING

Average of 40 Customer Ratings
5/5

"Amazing finance company. Sean has been supportive during our slow process to apply with a good trade finance company. This has been done, and the process cannot be easy without much assets. Thanks a lot for serious, and long term work. Cannot recommend more this company".

MD/Owner
Importer
Ref: 11448
24/8/23

5/5

"Good to hear from you. I was going to get in touch this week to thank you for the excellent service. I would not hesitate to recommend you to anyone interested in invoice financing. More than happy for you to reach out for a catch up any time".

Director
Medical Services
Ref: 11908
29/06/23

5/5

"Sean was always incredibly responsive and helpful, and always there to answer any questions we had. I would highly recommend him and Fund Invoice".

Ops Director
Temp Recruiter
Ref: 10856
21/03/23

5/5

"No problem I would rate you at 5 I had a few people ring me, but you came across well and explained the process well. You also gave me more than one company to speak too [THE INVOICE FINANCE COMPANY] came across well and happy with the service you provide

Thanks for all your help. And I am really looking forward with the relationship along side [THE INVOICE FINANCE COMPANY]".

Director
Construction
Ref: 11648
23/11/22
5/5

"Sean has provided us with a fantastic service in helping our business find a new recruitment factor and provide key information on two recruitment vendors that have helped move our business in the right direction. Sean gave us a quick and helpful solution, all whilst providing an excellent service and constantly staying connected to ensure our business found the right solution.

I could not recommend speaking with Sean highly enough."

Owner of a
Recruitment Co.
Ref: 11406
09/03/22
5/5

"Thanks so much Sean for everything you have done for us the service was Excellent".

Owner of a
Recruitment Co.
Ref: 11427
21/02/22
Award
Nom.

"When looking for invoice financing, I found FundInvoice LLP to be helpful and effective in matching our requirements to a finance provider and would recommend them in future".

Ops Manager
Ref: 11131
18/02/22
Award
Nom.

"I would like to nominate FundInvoice LLP for this award, the reasons being, when I changed my factoring package from [FACTORING COMPANY 1] to [FACTORING COMPANY 2], Sean supported me through the entire process. Sean made sure at all times I understood all the facts and also offered advice to make sure I took out the best factoring package to suit our needs. After I agreed a deal with [FACTORING COMPANY 2], Sean still checks in with me from time to time to check we are happy with everything. I would never use anyone else as I feel Sean really took on board, what suited our Company when trying to find the correct package for us".

MD of a Recruiter
Ref: 6725
14/02/22
5/5

"5-star rating. We had a challenging and unusual trade finance requirement. The agreement was not "off the shelf" and needed some extra work to find the right fit to meet our criteria. FundInvoice was fundamental in helping us find the right partner quickly and professionally without delay."

MD of an Importer
Ref: 11312
29/11/21
5/5

"As a result of their knowledge and persistence, Sean at FundInvoice were able to secure Invoice Factoring for us where others had failed. Working in a niche sector and on a complicated project, FundInvoice made the correct recommendations and supported me throughout the process. I am sincerely thankful for their help".

Managing Director
Composites Manf.
Ref: 11235
09/11/21
5/5

"Fund Invoice was absolutely amazing in assisting us find an invoice company. Once we contacted them within less then 24 hours they connected us with a company. Very fast and a quick response and amazing customer care. I would highly recommend them to any business".

Business Owner
Recruitment
Ref: 10728
18/06/21
5/5

"Prompt, efficient service with good advice and found a suitable finance provider for our needs" See the full review.

Finance Manager
Timber supplier
Ref: 11131
18/06/21
5/5

"Thank you so much for the introduction." Read the full testimonial.

MD of recruiter. Ref:11105
28/05/21
5/5

"What can I say other than fantastic service from Sean, listened to what we needed and produced the best product/IF, I recommend him highly".

Director of
Recruitment Co
Ref: 10736
16/03/21
NR

"Thanks so much for your help. If we don't do business on this product then I'll be sure to come back to you for future products as your service is exemplary".

Director of
Facilities Mgt Co
Ref: 10925
13/10/20
5/5

"5 stars. The service has been great. Not just for the service they provide but for the way they carry out their business. Not like other companies who chase until they get an answer they present you with options and from an impartial point of view help decide the best options to take your business to the next level.".

MD Pest Control
Company
Ref: 10722
28/07/20
NR

"Thanks for all your help - if anyone is looking for finance I'll send them your way.". See more.

Director of a Food
Supply Co.
Ref: 10792
04/06/20
5/5

". . . I would be happy to recommend your services to anybody.

I am actively looking for a second acquisition in the same sector and if I find one, yours will be the first number I will seek out."

MD Acquiring Co.
Ref: 10162
15/08/19
5/5
"I'll give it foive".
Director
Driver Hire
Ref: 9916
02/05/19
5/5

A pleasure doing business with, Sean is extremely attentive, but more importantly, gets results and is very accurate. I simply won't use any other broker.


MD
Review added to
Google 17/04/19
Ref: 9692
NR
Again, your input has helped massively throughout this whole journey.
MD
Staff Recruiter
Ref: 6362
31/10/18
5/5
We are quite happy to give you 5 stars :) You have been communicating efficiently and looking after our needs with regards to [THE INVOICE FINANCIER]. All the best and thank you for your referral.
Financial Manager
Car Body Repairer
Ref: 9463
17/07/18
NR
I just want to say a massive thank you for sorting me out with [THE INVOICE FINANCE COMPANY]. Your hard work has been priceless and I thank you for it. (Read the case study of this new startup).
Director
Startup Recruiter
Ref: 9355
07/06/18
5/5
Last year when we were looking to change an existing factoring facility, Sean was able to come up with an excellent alternative. He made sure he understood our business needs and was guiding and reassuring during the transition process. We've been using the recommended facility for a year now and very happy with all aspects from service to fees. We can recommend Sean and his team to anyone who is looking for invoice finance for their business. (Read more about the testimonial from this Care Home Recruiter)
Finance Manager
Care Home
Recruiter
Ref: 7217
12/03/18
5/5
I would have no hesitation recommending FundInvoice to any business owner considering their Invoice & Asset Finance needs. Sean Morrow took time and interest to fully understand our business needs and to help us make the correct decisions for our business.


Managing Director
Wood Importer
Ref: 8042
18/01/18
5/5
Many thanks to Sean for all his help in setting up our Invoice Finance agreement. Going into the process with very little understanding of the different types of Invoice Finance, I was dubious to go directly to Finance companies who may attempt to sell me the product that is best for them and not necessarily best for our business. As FundInvoice are fully impartial . . . (see the full review from these IT procurement specialists)


Director
IT Procurement
Specialists
Ref: 8666 12/09/17
5/5
Sean was very helpful when we were looking to move our factoring arrangement, talking us through options and offering a range of solutions including one that suited us well.


Added to Google
03/08/17
5/5
It's a 5 from me naturally mate! Even if [PROVIDER] couldn't of helped it was just the fact that you listened!

At a time when we thought that we would have to close the business, Sean put us in touch with a new financier and we can now continue trading. The service was quick and painless and Sean provided us with a solution that many others couldn't. I will
definitely, be recommending Sean to anyone who needs help with any Business Finance Solution.


Director
Recruitment Company
Ref: 8395 05/05/17
NR
I was put in touch with FundInvoice to assist my company with invoice financing solutions and would like to highly recommend them. Their industry knowledge was excellent and we experienced professional and friendly service. For anyone looking for invoice financing options, I would recommend FundInvoice to anyone as the first point of call.


Finance & Ops
Directors of Temp
Recruitment Company
03/10/16
5/5
Sean offers a very personal service and helped us find the best option for us. Highly recommended.


Review added to
Google 09/08/16
4/5
I would highly recommend FundInvoice when considering your company's Invoice & Asset Finance requirements. They took time to fully understand my needs and through tenacity and determination
ensured we got the best deal available.


Review added to
Google 08/08/16
5/5
5 out of 5
MD of a haulage
company
Ref:6504 07/04/16
5/5
Rating of 5 top class service from you.
MD of a new
construction
recruitment company
Ref: 5090 14/03/16
5/5
Sean was very diligent and precise when I approached him for an invoice discounting solution. Having been with my provider for over 10 years, Sean walked me through a few options and gave his honest opinion on pros and cons for all. In the end, I was very happy
with the recommendation given and will highly recommend Sean and FundInvoice LLP.


MD of a large
recruitment company
Ref: 6976 22/12/15
4/5
4 out of 5.
Financial Manager of a printing company
Ref: 4926 21/12/15
5/5
Happy to give you a rating. Look, you got back to me promptly (late on a Friday), provided several good options fast and effectively and
followed-up thoroughly so yes, happy to provide you with a 5 rating.
MD of a new start
recruitment business
Ref: 6969 27/11/15
5/5
I can rate you 5 and will surely recommend you to others.
MD of a recruitment
business
Ref: 6530 16/11/15


5/5
We used Sean Morrow of FundInvoice LLP to try and find us a better Invoice Financing deal than the one we were currently receiving through our bank. Sean did an excellent job introducing us to a number of different contacts who could offer us better deals than what we were getting. In the end, our bank offered us a much better deal as they did not want to lose our custom. I would rate Sean 5 out of 5.


Accounts Manager
of an established
cleaning chemicals
supplier
Ref: 6410 17/06/15
5/5
I would rate your service 5 out of 5! After spending months trying to find the correct solution for my business, within a few days of speaking with Sean I was introduced to a company that offered me
exactly what I need and at the right price, I wouldn't hesitate to recommend him.


MD of an energy
rebate company
Ref: 6566 16/06/15
5/5
5-star service The whole process has been flawless from start to finish. The paperwork was so straightforward, everyone very friendly and helpful if I had a problem. We were using the service within
a week of me making the first enquiry Would not hesitate to recommend it to any business.


Finance Manager of an
established Car Body
Repair Business
Ref: 6488 01/05/15
4/5
Thanks... I will give you a 4
FD of an Established
IT Consultancy &
Hardware/Software
Supply Company
Ref: 6209 26/03/15


5/5
The service was excellent. 5
MD of an Established
Office Relocation
Business
Ref: 4527 04/03/15


5/5
Business is going great, we are still learning but going in the right direction, [INVOICE FINANCE COMPANY] have been great, really pleased with how it's going, easy system to work etc. Thanks
for your help in getting the [INVOICE FINANCE COMPANY] facility off the ground, much appreciated. RATING – 5!


MD of a New Start
Installer of Wall
Insulation Under The
Government's Green
Energy Scheme
Ref: 6149 02/03/15
5/5
Having been declined by 1 invoice factoring company, I decided to search online to find another. I then came across FundInvoice. I input my details and within an hour received a call back from Sean Morrow. Sean found out about me and where my company would be moving forward. He immediately suggested 2 companies who he thought could help and both of those companies contacted me the following day. I have now signed an agreement with one of those
companies and couldn't be happier. Sean kept in contact throughout the whole process to keep me informed and see where I was with both companies. I can't thank Sean enough for his help and would
recommend and company, start-up or established, to speak to Sean who I'm sure will provide excellent customer service and know-how. Once again, thank you for all your help.


Managing Director of
a New Start
Recruitment Company
Ref: 6337 30/01/15
5/5
Sean provided much-needed assistance in seeking a factoring or invoice discounting facility for my company. His supportive, professional and persistent approach helped us at a time when we really needed it. I would recommend Sean without hesitation.


Director of a Publishing
company.
Ref: 2686 26/01/15
5/5
From start to finish FundInvoice lead us through changing our finance funding which saved us 15k per year. They made sure we had the right solution to our funding and gave us very good advice and supported us all the way through and made everything effortless.
Finance/Office Manager
of a Mechanical &
Electrical Building
Services Engineers &
Engineering.
Ref: 5275 24/01/15
5/5
We found ourselves needing some serious help and advice in sourcing the right factoring company for our immediate and ongoing needs. After several disappointing independent meetings, we were put in touch with Sean Morrow from FundInvoice LLP. We were immediately put at ease with his in-depth knowledge of the industry and factors in the marketplace that would help us find that partner which has indeed proved over the past 12 months to be far more
suitable than not only what we were experiencing before, but also exceeding our expectations. We would highly recommend FundInvoice to anyone looking for the right help and advice in choosing a factor that best suits their needs. 5 out of 5 for their service!!!!!


Prime Mover of a
Recruitment company.
Ref: 5956 26/01/15
Note: where ratings are "NR", feedback was a comment only and a star rating was not given. Award Nom. means that the review was given as a nomination for an award, hence there may not have been a rating given.