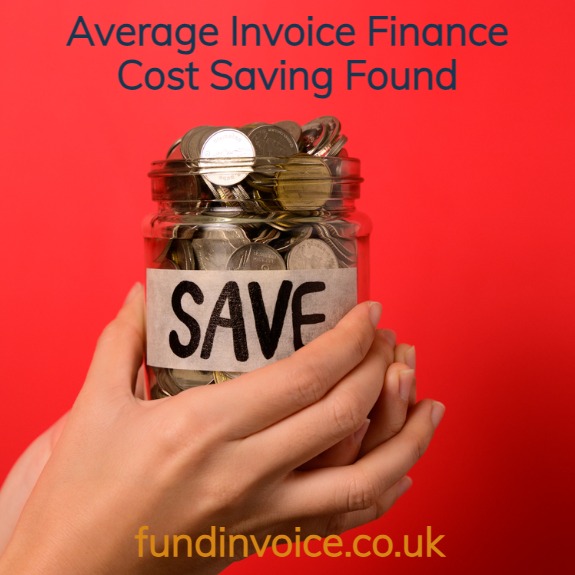 Our Latest Average Savings For Invoice Finance Clients In The UK
At FundInvoice LLP, we are delighted to announce a remarkable achievement over the last few years. Through our dedicated quote search service, we have successfully secured substantial cost savings for our UK-based clients.
We compared the combined invoice finance service charge and discount charge of quotes we sourced, against those sourced elsewhere (other charges were excluded).
Our invoice finance clients have on average enjoyed:
30% reductions in their total invoice finance costs compared to quotes they obtained elsewhere (averaged over the last 5 years).

Check If We Can Beat Your Quote Now
Check how much we can save you before you commit to any business financing arrangement.
30% Average Invoice Finance Cost Savings
At FundInvoice, our mission extends beyond merely finding customers invoice finance solutions; we are committed to surpassing the rates quoted by other brokers or financial institutions. To gauge our performance, we regularly benchmark our services to measure the level of cost savings we can provide to our valued clients.
We conducted an extensive review covering the period above, encompassing all the prospects over that period. During this analysis, we examined cases where customers already had existing quotes. We calculated the percentage by which we could reduce their costs, taking into account factors such as annual turnover, projected values, and competitive pricing. This approach allowed us to determine the average invoice finance cost savings across all the clients for whom we were in price competition.
Empowering Your Business: Saving Our Clients Money
The implications of this achievement are significant. If you currently hold a price quote from an invoice finance company for factoring or invoice discounting, or if you have an existing facility, chances are high that we can save you a substantial amount of money. We would encourage you to consider obtaining a quote through us before committing to another provider's rate. Moreover, we have established seamless measures to facilitate your transition to cheaper services without disrupting your operations.
Our extensive network of funders plays a pivotal role in achieving these substantial cost savings. We leverage our strong connections to identify opportunities for reducing your financial burdens.
Beyond Price: Improving Your Facility Terms
We understand that cost is just one aspect of the equation. In addition to delivering unparalleled savings, we also utilise our expansive network to enhance other aspects of your invoice financing facility. These enhancements can include increased funding levels, reduced security requirements (we can secure funding for you without personal guarantees at present), elevated service levels, and specialised solutions for customers with a less-than-perfect credit history.
Our commitment to excellence extends to every facet of your invoice finance experience, ensuring that we not only save you money but also optimise the terms and conditions of your facility to cater to your unique needs.
At FundInvoice we are your dedicated advocates, committed to delivering unmatched savings and improved terms for your invoice finance needs. Take advantage of our expertise and extensive network to unlock significant cost savings and empower your business to reach new heights of financial success.
Get In Touch Now
Get in touch with us today and embark on a journey towards a brighter financial future call us on 03330 113622 for a confidential quote search with no obligation to proceed.