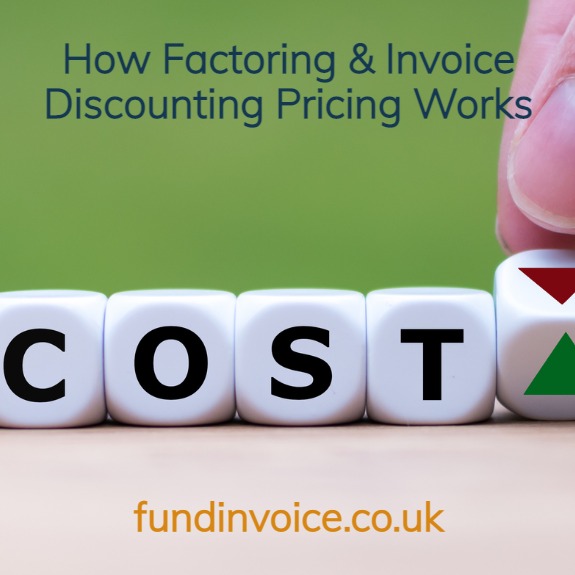 What is the cost and price of Invoice Finance, Factoring or Invoice Discounting?
Need an explanation of the costs? Below we have set out details of how the cost of factoring and invoice discounting are normally structured together with examples of what those costs may be. The only way to know what the cost will be in your particular circumstances are for us to get some quotations for you but below we provide a general explanation of the costs.
REQUEST A FREE INVOICE FINANCE QUOTE SEARCH
If you contact us we will search the market for you, to find quotes and quotations that are specific to your business. We will seek to save you money on any existing facility you may have. We have found on average cost savings of 31% for our clients, on quotations received from elsewhere.
We have undertaken an extensive amount of research into how the costs and fees work, you can read it for free here: Pricing Research.
How Do Invoice Finance Costs Work
The fees depend upon the type of facility that you want.
Selective Facilities
If you just want to select individual invoices to finance the cost can be very low, and you can do this without being tied into a contract. This is an example of a selective invoice finance costing for a larger transaction, however you can also finance small transactions, typically fees are around 2% per month that the prepayment is outstanding.
There are variations in the pricing structure between different providers.
Funding Against All Invoices
If you want to maximise your funding and finance all your invoices, the fees work slightly differently. The company that provides your debt factoring or invoice discounting facility will normally make two main charges which are as follows (but you can have a combined all inclusive single fee if you prefer):
Administration Charge (or Service Charge)
This is a fee for managing your debtor sales ledger if you are factoring or for maintaining your account if you are invoice discounting. This is normally expressed as a percentage of the value of the sales invoices that you raise but in some cases it can be a fixed fee. The fee will typically range from 0.2% to 3.5%. We have links to invoice financing companies that will seek to reduce the cost of any existing facility that you may be using already. Our expert finance advisers have found facilities with an annual service charge of just £3,000 (+ VAT if applicable) per annum, which was inclusive of discount charge as well.
Discount Charge
This is a charge, similar to interest, that is levied in respect of the funds that you actually use. It will normally be between 1.0% and 3.5% over bank base rate. We are aware of invoice finance companies that are currently offering special offers in respect of the discount charge which will save you money. In some cases there is no discount charge as it can be included within a single fixed fee, often called a "bundled fee".
Other Charges
You should ask the factoring or invoice discounting company for details of any additional charges that they may make.
For example of of the cost of factoring and invoice discounting please see these pages:
How To Get A Quote
The exact charges are particular to your circumstances so we would need to gather some basic details from you in order to find specific quotations for your business. If you would like us to search the market for quotations for factoring or invoice discounting for your business please contact us and we will do the rest:
REQUEST AN INVOICE FINANCE QUOTE SEARCH or call Sean on 03330 113622 and he will do all the searching around for you.