Factoring Cost
If you want to find out the factoring cost below we have set out a detailed explanation of both how factoring costs are structured, and how rates vary between different providers. There can be dramatic difference when you compare providers on fees. We can direct you to the best deals that are available in the UK market.
---
The best way to find out how much factoring costs for your company, is to: request a factoring cost quote. We have done the research so we already know who is likely to provide the best quote. We can do the work for you.
---
However, below is some generic information and advice about how the costs are structured. The provider will normally provide you with an offer letter that will set out the offer to your company, based on the details that you provide them with.
You should note that differences in the information you provide could have a dramatic effect on the figures that they quote. For example, if your projected turnover is much greater than the turnover that you achieved last year, that could enable them to offer you a discounted price, based on your projections.
Different Types Of Products
The particular type of factoring that you are using, or planning to use will affect the structure of the costing that you receive for each provider. The first product difference is between selective (picking invoices to be funded) and whole turnover (funding all you invoices).
Selective Costs
This is where you pick and choose invoices to factor, normally without any obligation to use the service again. If you are using a selective factoring product, the fee structure will be different from a whole turnover arrangement.
There is sometimes a start-up charge (typically a few hundred pounds - less in some cases - but not all providers charge this) normally followed by a percentage of the value of the funding that you drawdown. Typically, this charge will be approximately 2% per month for the time that you have drawn and prepayments, until they are repaid when the invoices are paid. If you only plan to use the facility occasionally, or you don't want to be tied in, this could be a good option for you. However, if you intend to keep the funding for as long as possible, a whole turnover quote may be the more cost effective option.
Whole Turnover Costs
The other type of facility is a whole turnover, where you factor all of your invoices, perhaps with certain agreed exceptions. In this case, the charges are likely to be broken down as follows.
Bundled Fee Versus Service Charge and Discount
Broadly speaking you can either have a single, all inclusive fee or separate component fees to your costing. Different providers take different approaches but some may will be able to offer you either option.
Bunded Fee - Single Fee
Some factors will offer customers (normally smaller businesses) a bundled fee. This is a single fee structure including all (or most) of the costs. In some cases there may be some additional transactional costs e.g. for a CHAPS transfer if you want one. There may be a tariff of charges that define these.
Whilst a single charge structure may sound appealing, predictable and simple to understand, it is likely to be more than the anticipated charge if you went for the component fees approach. So you might be able to save some money by taking the slightly more complicated fee structure.
Service Charge & Discount Charge
Service charge - is a percentage of the value of invoices that you factor. However, in some cases, it can also be a fixed fee. This is however less common. Additionally, the charge may be subject to a minimum per month, quarter or year, in some cases. Once again, the terms will differ between providers.
Discount charge - is a percentage of the value of prepayments that you draw, often charged above base rate or LIBOR. Watch out for providers charging minimum base rates, these can bump up the fees.
Tariff Of Other Charges
There may also be a tariff other charges which relate to particular chargeable event, such as making a payment by a transfer method such as CHAPS.
The structure of the costs are explained in detail, in this article - What is the cost of invoice finance.
Examples of Factoring Cost
If you are looking for a general guide to the likely pricing, we have set out some examples of factoring costs in this article:
It might be useful for you to understand how the factor works out the charges: Article - how factoring companies work out the charges. This article explains in detail the variables that a factor will use in order to calculate and come up with a price for you.
Note that most providers will be open to negotiating the price, so don't be afraid to ask them to revise their initial quote downwards. This is particularly the case where they are in competition to win your business. By getting more than one quote you may be able to leverage a fee reduction, but be sure to compare the other terms of multiple offers, in order to ensure that you are comparing rates on an even playing field. For example, if one provider is offering you 95% prepayments and the other 85%, you may want to take the higher prepayment level, even if the cost is slightly more. Similarly, one may offer you limited personal guarantees whilst another's offer includes unlimited guarantees. Once again, getting the cheapest cost may not be paramount in such circumstances.
How Rates Compare Between Providers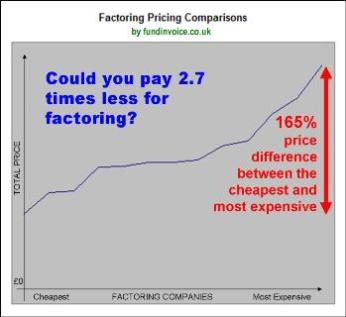 You will find that the rates compare between providers. We conducted some factoring pricing research whereby we spoke to a range of different providers and asked them all to quote for the same client i.e. with the same variables quoted to each provider. It was an average client, with nothing exceptional about its statistics or trade, therefore you may have been forgiven for expecting all the fees to have been similar. However, in our study, none of the prices we received were the same, and the range exhibited a 165% overall cost difference between the cheapest and the most expensive providers. Note that we used consistent projected statistics to estimate the annual cost of each facility for the purpose of comparison.
The graph in the image demonstrates visually both the disparity between different offers and the range of prices that were quoted, each point on the line was another fee structure that we received.
Comparing just the service charge element, the difference between the top and bottom of the table of prices was 203%, a huge difference.
If you were to randomly pick just one provider at the bottom of the table with no knowledge of how they compared to other providers, you could end up paying 2.7 times more than if you happened to pick the cheapest provider.
This only reinforces how important it is to shop around, or get some advice before you make a decision to go with any particular provider. You should also be aware that there are always offers and discounts being offered by certain factoring companies, so you might want to take these into account.
More Information About Factoring
If you want more information about how factoring works we can provide full details.